Payments by state malpractice fund dropping
A $1.2 billion state-run fund for large medical malpractice awards has seen a significant drop in payments to injured patients in recent years, contributing to a $813 million surplus that is more than twice what regulators recommend, a State Journal analysis shows.
The reduction in the number and amount of payments by the Injured Patients and Families Compensation Fund illustrates how hard it has become to win lawsuits against doctors in Wisconsin, said Mike End, a malpractice attorney in Milwaukee and former president of the Wisconsin Association for Justice.
"I think the medical complex has won the day," End said. "They've beaten the lawyers down to the point that now when people are injured or relatives die because of medical errors, they just can't find a lawyer."
"We have high quality of care, so perhaps there are fewer negligence issues happening," Grapentine said.
The fund, which started in 1975, pays malpractice awards of more than $1 million. Doctors, hospitals and some other health care providers must carry their own malpractice insurance up to $1 million and pay into the fund. At least 13 states have such funds.
Dan Rottier, a malpractice attorney in Madison, said the fund gives doctors and insurance companies less incentive to settle cases because they don't personally risk losing more than $1 million. A $750,000 cap on non-economic damages in the state also makes it difficult to pursue malpractice cases, which typically cost at least $100,000, he said.
A case before the Wisconsin Court of Appeals, handled by Rottier, could lead to a ruling on the constitutionality of the cap. A jury awarded Ascaris Mayo, of Milwaukee, $16.5 million in non-economic damages after she lost all four limbs from an immune system reaction to an undetected infection. The award was reduced to $750,000 because of the cap.
"The cap punishes the people most seriously injured," Rottier said. "The structure (of the fund) punishes the smaller cases that never get brought."
According to a Legislative Audit Bureau reportin March, the fund had a surplus of $783 million a year ago, $406.4 million more than the upper end of a range of $86.4 million to $376.6 million recommended by regulators last year.
The  surplus grew to $813 million by March, the Wisconsin Office of the Commissioner of Insurance said last week.
The office has been reducing provider fees to the fund since 2013 to bring the surplus into the target range. Doctors now pay $606 to $3,998 a year, depending on their type of practice, 30 percent less than last year.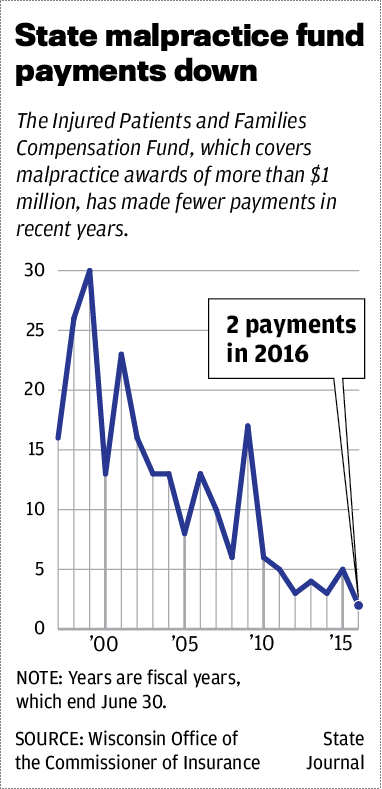 Over the past 20 years, the number of payments made by the fund has declined, and the total amounts paid in the past five years are considerably less than the previous five-year intervals, according to a State Journal analysis of data from the insurance commissioner's office.
From fiscal years 1997 to 2001, the fund made 108 payments, or an average of 22 per year, worth a total of $138.5 million. In fiscal years 2012 to 2016, which ended in June, just 17 payments were made, or an average of three a year, for a total of $61.5 million.
In fiscal 2016, just two payments were made, including $2.75 million to Donna Disch, widow ofTravis Disch, a 37-year-old father of two who died after a routine endoscopy at St. Mary's Hospital in 2013.
Though the fund and a version of the $750,000 cap have been around for many years, their cumulative effect, along with juries who tend to favor doctors, has led malpractice attorneys to become more selective in accepting cases in recent years, End said.
"There are fewer lawyers willing to take that gamble," he said. "Patients are left out in the cold."
Wisconsin ranked 49th among states in malpractice payments per capita from 2004 to 2014, according to the National Practitioner Data Bank.
However, a report this year by Zippia, a career guidance website, said Wisconsin ranked somewhat higher — 38th — in medical malpractice lawsuits filed per capita last year.
"The lawsuits are happening," Grapentine said. "It just seems like they're not winning in Wisconsin."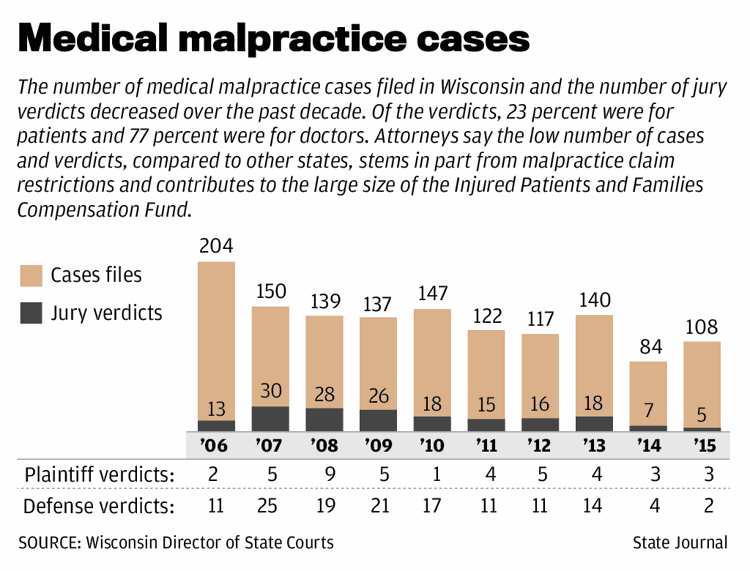 Grapentine said that when doctors refuse to settle cases, it's because they want to protect their reputations, not because of the fund.
"They don't want to have a stain on their record that is not justified," he said.
Even though the number and total amount of fund payments has dipped in recent years, the average payment has gone up. In 2012 to 2016, it was $3.6 million. In 1997 to 2001, it was $1.2 million.
That is likely because attorneys are turning down more cases that are unlikely to result in a large payment, Rottier said.
Justice may be BLIND… but still "CONTROLLED" by the ALMIGHTY DOLLAR
Filed under: General Problems